Rare Innovations™ | Inspired Solutions
Exclusive Referral Network
Consulting | VIP Events
---
Your Power of Presence & Influence at it's Best.
---
Jack Barnathan, B.B.A., D.C., F.A.C.C.
(ISSA) C.F.T., M.F.S., M.S.S., C.E.T., S.S.N.
Awarded The United States Presidential Certificate of Merit
"Dr. Jack, your work has made such a powerful impact. Your leadership and talks at the Fitness Festival are always highlights of the weekend for me.
I am proud to know you."
- Arnold Schwarzenegger
Dr. Jack Barnathan | NY Strength Inc.
590 Madison Avenue 21st Floor
New York, N.Y. 10022
212-710-4337
♦
Sign up for our
Newsletter
♦
One of a kind news, updates, insights,
networking opportunities, promotions,
exclusive invitations and more.
Occasional. Invaluable. Our Free Newsletter


Nov 12 - 8 credits - LIVE or Virtual, NY City
(Special reception for members of Dr. Jack Barnathan's Consulting Team Saturday Evening and Sunday the 13th of November in the same Penthouse enjoyed by the President of the United States when he visits New York City!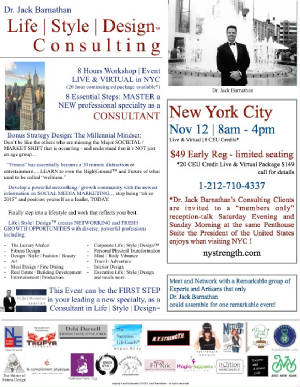 Your "power of presence."
A 'high ground' where you and those you serve grow powerfully - centered, certain & strong."