We FIRST find, fine tune and CLEARLY focus that which sets you and your business / service apart. This is called branding. We help you market (communicate) the qualities that make you truly unique to the market that needs you most. Avoiding costly mistakes and truly knowing who you are and who you serve.
It is a powerful moment when any business or service finally owns this - it's own, unique Brand.
Here is where you can be viewed as
truly
'one of a kind,' and therefore, invaluable. Even irreplaceable.
Here is where your genius lies.
Special Programs for:
The Business Brand
The Fitness Service Brand
The Performing Artist Brand
The Physician Brand
The Anti-aging Brand
The Wellness Brand
The Inspired Meal Design™ Brand

Develop the qualities that set you apart...
Make youself 'one of a kind' and ultimately invaluable to the community or 'market' that needs you most.
Here is where your genius lies.
---
The energy, attitude, look and

outlook



your professional goals deserve™
---


Meet with Dr. Jack Barnathan over lunch or dinner (or a virtual cup of coffee via our private web conferencing)...
and have an in depth discussion about your goals, dreams and how the STRENGTH you already possess can play a powerful role in defining your success and attracting the market you need to serve most!
Special one time meeting package includes our 'patented' Visionairre™ Profile and one on one meeting with Dr. Barnathan (at lease 90 minutes, but often longer).
You will leave with specific steps to take in order to best fine tune and share your best for a success that is profound, and enduring. CALL for appointment availability...
or... choose our year long Full-Access coaching package.
The choice is yours to make for the future you desire and deserve.
"Dr. Jack,
Your work to promote Fitness and Strength Training has made such a powerful impact on individuals of all ages. Your leadership at the seminars at the Arnold Schwarzenegger Fitness Festival is outstanding, and your talks are always one of the highlights of the (Arnold Schwarzenegger Fitness Festival) weekend for me.
I am proud to know you."
Governor Arnold Schwarzenegger.
Our Visionairre™ Assessment and Crafted Success Strategies are designed to present you as clearly 'one of a kind,' invaluable, and therefore irreplaceable to those you serve.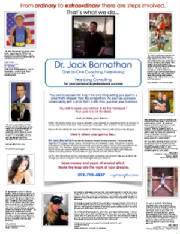 - Marketing innovations
- Branding of your unique strengths
- Individual coaching
- Business consulting
- Mentoring programs
- Continuing education seminars
- Advanced success design workshops
- Inspired Success